News
For our latest show dates check out our "gigs" page.
10/16/20
We are proud to announce our new single:  "Gotta Get Together"
Originally recorded in 2018 at Superior Sound Studios with engineer Jim Stewart, the song was a response by singer/songwriter and guitarist Brent Kirby to the deepening divisions he saw and felt in American society. But it was also a plea for people to work together in order to fix those same divisions. "It was simply something I started saying to myself and then became something I sang."
Brent's original idea, a steady chant with only a few guitar chords, grew to anthemic proportions with the contributions of his bandmates Bobby Latina (guitar), Greg Campolieti (drums) and Edward Ángel Sotelo (bass). A mainstay of the Cleveland music scene for 15 years, the recorded performance of "Gotta Get Together" represents the true essence of the intense live approach that the Jack Fords are best known for.
As a hotly contested US election approaches ever closer, the band realized that the time was right for "Gotta Get Together" to be heard. "The song says everything that needs to be said about our current situation, both politically and as human beings," says drummer Greg Campolieti.
Enjoy and pass it along!
12/22/20
Happy Holidays all! 
We have some 2020 dates up now, see our gigs page.  More updates coming soon....
10/7/19
Don't miss out on our last two gigs of 2019. We've got back to back shows in October!

On Friday October 18th, we're at the Water Street Grill in Kent, Ohio.  These early shows have turned out to be a great time at this classic Kent college bar, which has a great rooftop view of the town.  Take the trip down, because you know the changing leaves are gonna make the roads look beautiful.

The very next night on October 19th, we're at Brothers' Lounge.  Bring everyone you know and let's pack the place!

Thanks for coming to our shows, sharing our music, and getting to know us.  Spreading the joy of music -- and especially original music made right here in Northeast Ohio -- means a lot to all of us in the band.  And maybe we're a little bit crazy, but we think we're helping to fix the world, one song at a time.
8/23/19
We'll be playing a lot of music in and around Cleveland this month, so come out and see us sometime!
On Friday, August 30th, we're back for our visit to beautiful Chagrin Falls and the Greenville Inn.
On Saturday September 7th, we'll be playing Port Clinton's second annual Rock The Light Festival.   Learn about it in our video on facebook.com/jackfords!  We had just a little bit too much fun making that one....
On Saturday, September 14th, we're playing the Heights Music Hop, which is an awesome three day street festival that highlights the people, businesses, and creative culture of Cleveland Heights.  Not only will you get to see dozens of musical artists from the region, It's a great way to learn about one of the coolest places in Northeast Ohio.
Make plans for Tuesday, September 24th, because we're opening for legendary rock n' roll band The Blasters at the Beachland Ballroom and Tavern.  The Blasters are an influence on us (especially Bobby) so we're honored to be playing this show.  You don't want to miss this one, even on a Tuesday night! Get your tickets NOW at beachlandballroom.com.
Remember we've got t-shirts, hats, and CDs offered at each and every show (well, if we don't forget). Bring your friends and family too, because we really want to get the word out about the kind of rock and roll we love to play and share!
 7/16/19
Hey, we wanted to let everyone know that we're excited for this Sunday's show. We'll be playing at the Evans Amphitheatre in Cain Park from 1 to 4 pm. Since it's a new venue for us, we hope we get a good mixture of new faces and old friends. So tell everyone you know! 
And here's something else we're excited about. And so is Cosmo: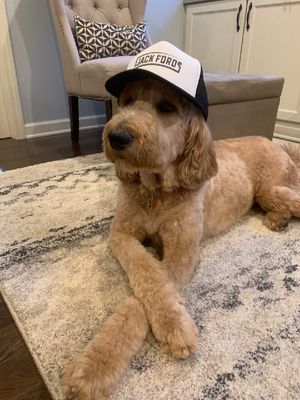 We've got limited edition Jack Fords trucker hats!  And they're only available at our shows. We also have t-shirts in various sizes featuring the Jack Fords logo, which will also be available at jackfords.com.  
Hats are $15, t-shirts are $20, CDs are 10. GET ALL THREE FOR $40! 
See you this Sunday!  We start at 1 pm on the dot! 
Jack Fords
4/16/19
We're back for 2019's first show....This Friday we're super-stoked to be a part of the Kent Americana Fest. At 12 venues in and around Downtown Kent will feature such artists as Thor Platter, Rachel Brown and the Beatnik Playboys, Ray Flanagan, Roger Hoover, and many more. We go on at 9:30 pm at the Water Street Grill, right after The Shootouts, who start at 7 pm.  We expect a total party crowd, so get to Kent early! 
To learn more, https://www.kentamericanroots.com/schedule 
For more Jack Fords action, come see us play at the Blossom Time Festival in Chagrin Falls on May 25th.  We also have a very special show we're stoked about at the Cain Park Evans Amphitheatre on Sunday, July 21st. 
8/21/18
This coming Sunday we'll be playing what might be one of our biggest shows ever.  Months ago we got asked to play one of Downtown Cleveland's biggest music festivals -- InCuya Festival -- and we're excited. The weekend we've all been waiting for is finally here! 
On Saturday, August 25th and Sunday, August 26th, more than 20 bands will take over Malls B and C in Downtown Cleveland.  
The artists include Rock & Roll Hall of Famer Booker T. Jones, New Order, the Avett Brothers, SZA, Awolnation, the Revivalists, Cake,Tank and the Bangas, J. Roddy Walston and the Business, and many more.  New Order headlines Saturday; the Avett Brothers, Sunday. 
There will also be food vendors, merch, and all kinds of fun stuff to do. From what we've read, the weather should be pretty nice, too. 
We play the Lake Stage at Incuya Festival at 2:45 pm sharp!  Order tickets, check us out, and a whole lotta other cool bands, too. 
https://incuya.com/index.html
4/24/18
Jack Fords to play InCuya Music Fest!
This summer in Downtown Cleveland, we're going to be playing the first-ever InCuya Music Festival, featuring such bands as The Revivalists, Tank and The Bangas, The Avett Brothers, J. Roddy Walston & the Business, and a whole lot more. We guess there's probably going to be beer and food and other summer stuff, too.
Tickets and hotel packages are on sale now! Bring your friends and family into town for a summer to remember!
This summer in Downtown Cleveland, we're going to be playing the first-ever InCuya Music Festival, featuring such bands as The Revivalists, Tank and The Bangas, The Avett Brothers, J. Roddy Walston & the Business, and a whole lot more. We guess there's probably going to be beer and food and other summer stuff, too.
Tickets and hotel packages are on sale now! Bring your friends and family into town for a summer to remember!
11/6/17
We're happy to announce that we'll be playing two more times before 2017 comes to an end:  this Friday (11/10) we'll be at Smedley's in West Park; and on Friday, December 29th we'll be at the Greenville in Chagrin Falls.
This Friday night gig at Smedley's was a last minute situation. So if you've got friends who are NOT on social media (well, Facebook. One of these days we'll get on Instagram), you might want to pass along this email. Or you might even wanna text or call.  You know it's hard to beat a packed room of happy music lovers (ourselves included!) and playing for friends all night long. 
8/29/17
Dear Friends of the Jack Fords!
Keep hoping for good weather, because the Jack Fords are playing the Rock And Roll Hall of Fame this Wednesday evening (August 30th) from 6 to 9 pm (also on the bill are Cleveland band The Commonwealth).
Since there's no Indians home game, parking should be relatively affordable in the area.  We believe there are some lots near FirstEnergy Stadium, the Science Center, and Burke Lakefront.  Of course, carpooling is key.
Remember that you can also make a whole night of it, too. There are plenty of booze n' food options within only a few miles of the Rock Hall.  There's nothing quite like being out there near the water, under the Cleveland moon, listening to live music.   We've been to the Rock Hall as fans and performers, and it really is something special to experience.
If you can't make this Rock Hall gig, we'll be back to visit our eastern friends at the Greenville Inn in Chagrin Falls on Friday, September 8th.
Thank you and see you at the shows!
Bobby, Brent, Eddie Fast Finger and Greg-  The Jack Fords
7/5/17
We're playing three times this July.
Saturday July 15th at Smedley's, 10 pm.   That's on Lorain Road at Kamms Corners.  Last we checked, there's no indoor smoking.
Friday July 28th -  6 to 8 pm as part of the Coventry Village Concert Series.  That's right: you read 6 to 8 pm.   We're stoked that Coventry Village -- home of the Grog Shop, Big Fun, Mac's Backs, and much more -- has asked us to play a gig that works for Saturday early-risers.  There will be a beer garden (with beer from Butcher & The Brewer) along with food, so you can still make it a party!  There's plenty of parking throughout this Cleveland Heights neighborhood.  If you wanna find us, just follow the sound!

Friday July 28th at The Greenville Inn, 10 pm  For those of you in search of a long night of rock n' roll, you've come to the right place.  If you've been to one of our Greenville gigs, you know that we don't let up!  Bring your earplugs and come ready to party!

5/20/17
Dear Friends of the Jack Fords!
We're pleased to let you know that we'll be opening for the mighty Yayhoos on Tuesday, August 22nd, at the Beachland Ballroom and Tavern!
You might ask, "Who are these Yayhoos of which you speak?" Well, friends, they're kinda sorta related to the Georgia Satellites, on account of guitarist/vocalist Dan Baird; but they've got other folks like Eric "Roscoe" Ambel (from the Del-Lords and The Blackhearts, Steve Earle) along with Keith Christopher and Terry Anderson (who also boast a list of What They Dones).
The bottom line is that they play rippin' rock and roll that demonstrates the power of Chuck Berry and Keith Richards riffs; both of which are fortified by some smart-ass lyrical humor and four-to-the-floor beats. It ain't rocket science. It's just a good time. And we're pleased as hell to be sharing them stage with them!
This Saturday, we're also playing the Downtown Willoughby Rib Burn Off with guest bassist and former Jack Fords member Paul Lewis. You might know him from playing with Thor Platter, along with a whole slew of fine folks all over Northeast Ohio and beyond.  The sights and smells of food and drink aplenty will drive you into a summer frenzy! Well, maybe not that much, but this street fair is good for all ages and appetites.
And even though it's a little bit early, remember we're playing the Hessler Street Fair on Sunday June 4th at 7 pm, right before the marvelous Carlos Jones & The Plus Band.   Don't miss this classic Cleveland street festival!
Help us get the word out to friends and family who haven't seen or heard us yet. Spread the word!
1/15/17

Happy New Year....2017 dates are up on the gigs page



 
7/27/16
 
Why should you come see us this Friday at Brothers Lounge?
1. This show is our Last West Side gig (barring, you know, Led Zeppelin travelling forward in time and asking us to play a secret gig with them at Now That's Class) for 2016.
This is a must-see show for us if you have west side friends who would like to see us but can't make the drive out to the eastern suburbs that we occasionally play.  Spread the word!
2. It's also the "unofficial" pre-birthday party party for our very own Bobby Latina!  Feel free to get him drinks, hugs, and the occasional cupcake. Just make sure you don't get any crumbs on his Telecaster.
Doors open at 7:30 pm; music starts at 9:30 pm.  It's five bucks to get in.  The food is tasty and the drinks are delicious.
Brothers
 is located at 
11609 Detroit Avenue in Cleveland.


2/29/16

It's been a long time since we've played the Beachland.   Tomorrow night (Tuesday, March 1st) we're coming back to this great rock n' roll venue as the openers for Dan Baird and Homemade Sin!
Dan is not only a former member of the Georgia Satellites and The Yahoos, but also has had quite a career cranking out quality solo records.   If you like the kind of rock and roll we play, then we can almost guarantee that you'll like what Dan and his band do. And if you like it loud enough to rattle your chestbones and tickle your eardrums, keep in mind this show will take place in the Tavern. You might say it's gonna be kind of 'intimate".  Or "in your face", take your pick.
Bobby drew up a pretty hot set of songs for you guys.  We practiced them on Sunday and they sounded pretty damn good.  We hope you guys get to hear them.  We hope you guys stick around for Dan, too. He's great. Tell everybody!
We go on around 8 pm.  Tickets are $15 in advance, $17 day of show.   Get some information on the Beachland right
HERE
.

1/12/16:

Happy New Year folks.  Thanks for all the great shows last year.  We just updated our show page for the 2016 shows thus far.  See you all there!


12/10/15:

As of the writing of this email, we're only one week away from our very last show of 2015. So what's the big deal?
First, unless things go really haywire with the weather, December 17th promises to offer us mild weather, perfect for a long and hopefully wild night of rock n' roll at
Music Box Supper Club
.  By the next time you see us -- which is going to be a really long time from now -- it will probably be pretty cold.    Get your kicks now before ice covers Northeast Ohio.
We'll also have some new tunes: look for cover songs and maybe even a brand new Jack Fords original, too!  All we can say about this new song is that it's a little bit like our old stuff, but with more horsepower than usual.   You can thank Greg Campolieti for that!
Finally, we're really happy to announce the opening act for this show: Rock Apocalypse, from School of Rock!  Known informally as the "Headliners", these kids are some of the most talented young rockers that all three School of Rock area locations --
Rocky River
,
Strongsville
, and
Highland Heights
-- have to offer.  As Brent once remarked, "These kids are scary tight".  Rock Apocalypse are as good as any cover band that you've seen in the area; maybe even better.  They play classic cuts and new stuff with real power, energy and attitude.   If you care about the future of rock n' roll, these kids are not to be missed! They hit at 8 pm sharp.
Remember, this gig is on Thursday, December 17th at 8 pm with School of Rock's Rock Apocalypse opening. If you've got people visiting you over the holidays, bring them to Music Box Supper Club for a night of good times right down by the Cuyahoga.
4/14/15:
Warm weather looks like it's back. The Jack Fords definitely are. Springtime always brings back things both old and new; the Jack Fords are no exception. This Friday, April 17th, the Jack Fords welcome back old drummer Greg Campolieti to the fold with a performance at the Venice Cafe, in Kent, Ohio.  Greg played drums with the band from 2007 till 2010 and was featured on our record "
The Way Things Should Be
".  Let's welcome Greg back with love.
The Venice Cafe is located at 163 Erie Street. Check them out at
http://venicekent.com/
. Word from our very own Bobby -- who was there to see Brent perform with The New Soft Shoe -- is that it's a very cool place indeed. The Fords kick off their show at 8 pm.
If Kent's too much of a haul, please note that the Fords will return to Brothers' Lounge on Saturday, May 9th. Greg's bringing the big drums!
Remember to pick up your copy of
"There It Is"
here or at the shows
3/5/15
We hope you can join us this Friday at the Happy Dog at the Euclid Tavern to celebrate our new CD, There It Is.
It's been a long time since we wrote and recorded these songs. We almost feel a sense of relief knowing that you guys, the fans and friends who come out to see us whenever we play, can finally hear these songs in a studio setting!
If you're interested in buying a copy of 
There It Is
, we'll have some at the show to sell.  But you can also go to 
www.jackfords.com
 if you want to have copies mailed or want good old-fashioned digital downloads.
We're pretty sure all you Jack Fords regulars will be there.  Now your goal is to spread the word and share the rock n' roll -- tell everyone you know and let's fill the place to the brim!
If you need info on the Happy Dog at the Euclid Tavern, here's its Facebook.  Parking is available in a lot across the street.   Our friend and opener, Ray Flanagan, starts around 8:30 pm with his band, The Authorities. We'll probably start around 10 pm.

Admission is $10. See you tomorrow night!

3/3/15:

Our new album "There It Is"  AVAILABLE NOW!  Go here and buy it!



2/18/15:

Four years after their CD The Way Things Should Be, The Jack Fords' latest will at last see the light of day. Entitled There It Is, this Cleveland quartet will play a CD release show at the Happy Dog at the Euclid Tavern on Friday, March 6th.

The tunes featured on There It Is were written and honed over a period of time throughout which The Jack Fords thoroughly rocked and rolled at area bars and venues on either side of the Cuyahoga. Despite being too fast and too loud for a local cover band, the Jack Fords earned themselves a loyal following. These folks have been drawn by the band's sound, which brings to mind everything from the earthy melodies of Tom Petty to the explosive twang and swing of bands like The Blasters.

What truly makes the band distinctive, however, are the passionate vocals of frontman Brent Kirby and the hot rod riffs of lead guitarist Bobby Latina. Together, these two have written some standout songs and some unforgettable performances, both of which the band has captured on There It Is. Along with ace drummer Jim Wall and bassist Edward Angel Sotelo, Brent and Bobby recorded There It Is with engineer and producer Jon "Guggy" Guggenheim at C-Town Sound in Cleveland.

The Jack Fords will play There It Is in its entirety, along with tunes from their previous releases, The Way Things Should Be and Bent Outta Shape. The show starts at 8:30 pm with a set by Ray Flanagan and The Authorities. Admission is $10

Jack Fords CD Release Show for There It Is. Happy Dog at The Euclid Tavern
11625 Euclid Ave.
Cleveland, OH 44106 www.facebook.com/HappyDogEuclidTavern
9pm $10 cover
Ray Flanagan & The Authorities open


1/27/15:

Jack Fords will release their third album, "There It Is" at the Happy Dog at the Euclid Tavern on Friday March 6th.  Ray Flanagan and The Authorities will open the show.
More details to come as well as more 2015 dates.



10/7/14:

Dear Friends and Fans,
 
Even though New Year's Eve is still a few months away, the Jack Fords will spend this upcoming Friday night welcoming a whole new year of rock n' roll!  On Friday, October 10th, the Jack Fords will play their last gig of 2014 at the Greenville Inn, located at 150 Pine Street in Chagrin Falls.
If all goes according to the Jack Fords' plan, 2015 will be a good year indeed.  Bobby has said that within a few months, he and Brent will return to Jon Guggenheim's C-Town Sound to put the finishing touches on the band's next album.
Do some of you remember the Fords working on this album a long time ago?  At long last, the world (or at least Northeast Ohio) might see and hear the follow-up to 2010's The Way Things Should Be!
Show up on Friday and hear some of the tunes that'll be on the next record, or other originals from The Way Things Should Be and Bent Outta Shape.  The Fords' sets will feature a few covers, all for your dancing and drinking pleasure at a little bar that just can't be beat.

7/8/14:

At long last, summer has finally grabbed Cleveland and its surrounding towns in its hot, ever-lovin' embrace.   Lest this passion be fleeting, the citizenry has taken to partying themselves silly over the last few weeks.  Therefore, there has been absolutely no shortage of fun this Summer 2014.  But where, you might ask, do the Jack Fords fit into this picture?
Could the Jack Fords' one and only summer gig -- this Friday, July 11th, at the Greenville Inn -- fit into your weeks of grillin', chillin', and basking in the golden glow over Lake Erie?  Of course! Let's not forget rock n' roll!  Even though Brent has been busy with Hey Mavis and his Brothers' Lounge 10x3; even though Jim and Ed have been busy teaching and playing in countless area bands; even though Bobby's been busy being awesome, the Jack Fords haven't forgotten you.
Don't wait for the Fords' next gig in September! Pretend this summer will never end on
Friday, July 11th, 10 pm. The address is 
7150 Pine St, Chagrin Falls, OH 44022.  Expect some select covers, but a whole lotta JFs tunes from the band's albums Bent Outta Shape and The Way Things Should Be.

2/28/14:
 
Those of you who follow pro sports of the Cleveland variety might be aware that the Indians are in spring training. Which, according to the old cliché, means "spring is right around the corner". Though we have very little reason to believe the snow and the cold will be going away, the Jack Fords have proof that rock n' roll season is, in fact, around the corner. Seriously. Around the corner. Like, this weekend!
Yes, the Jack Fords' long hiatus comes to an end this
Saturday, March 1st
. This time, the Fords will be back in the lovely West Park neighborhood at
Paddy Rock
(16700A Lorain Avenue). According to Paddy Rock's website, it's the largest bar in the Kamms Corner Entertainment District. That means plenty of room to dance, bounce, swing and stumble with as many friends you can possibly bring. Rock and roll will be served up from 9:30 pm - 1:30 pm. Start early with the Fords -- maybe with a meal to soak up the alcohol -- like a sensible adult. You could also finish off your night with the Fords. A combination of a shot, a beer, the Jack Fords' "Last Call Whistle", and maybe even a late-night booty call text message might be just the thing you've been looking for since the band's last gig in November!
If you can't attend this Saturday's craziness at Kamms, saddle up the ponies, brush the dust off the wagon, and make the snowy trek down to Chagrin Falls' Greenville Inn on Friday, March 14th. The Falls are lovely this time of year, all capped in sparkly snow. If you're a West Sider, make a night of it and check out the local restaurants before checking with The Jack Fords. If you're an East Sider, please give some West Siders a place to crash! Because as Bon Scott once sang, "It's a long way to the top if you wanna rock n' roll".
Whichever Jack Fords gig you choose, friends, rest assured it's going to be all the rock you can handle, and so much more. Sure, there are a slew of covers from artists such as Tom Petty, Bruce Springsteen, and Bob Dylan. But it's the Jack Fords originals -- from their albums Way Things Should Be and Bent Outta Shape -- that never fail to impress. The Jack Fords are a bar band unafraid of improvisations, original tunes, and spontaneous sing-a-longs. The Jack Fords are a working rock n' roll band that doesn't forget the art of rock n' roll.

11/8/13:
 
This past year has been a busy one for all four Fords - Brent, Bobby, Ed, and Jim -- who have been not only busy with their own projects, but with keeping the Fords afloat on the great river of rock that courses through Cleveland, and into your veins (or livers).
Jim is still one of this town's go-to session drummers; Brent is working with Hey Mavis along with his own solo stuff; Ed has been busy teaching at the Strongsville School of Rock, and Bobby has been working with Google to create a cloud-powered GoogleBoard pedalboard that can trigger an infinite variety of sounds, licks, and riffs with just the movement of one's eye (out in 2015). Amidst these events, this foursome found time to head into Jon Guggenheim's C-Town Sound to record the tunes that will be on the Jack Fords' next album. And of course, there were gigs aplenty. Were you there?
If you were there, then you know just how much ass will be kicked this coming weekend of November 15th - 16th. If you haven't, let the Jack Fords introduce you to a proper whuppin', bar-band style. This is the kind of bar-band rock that says, "can we dance with your dates?" and might just cause you to lose your mind, wallet, and inhibitions. For two nights -- Friday at the Greenville Inn in Chagrin Falls, and Saturday night at Smedley's in Cleveland's West Park neighborhood -- the Jack Fords will get you nice and dirty. Don't tell your parents. Or your kids!
For these two nights, the Jack Fords will dig into their extensive catalog of three albums' worth of material and throw out some seriously choice covers. No riff will be left untouched. Ask your friends if they like rock AND roll. If they say yes, toss 'em in your car and bring them to either (or both) of these shows. Pack the dance floor as the band's 2013 comes to an end. And turn it up louder!
See you guys in 2014. And thanks for your love and support! Look for upcoming shows at
gigs page
-Bobby, Brent, Edward and Jim-  The Jack Fords




10/2/13

Sorry it's been such a long time since we've updated the site.  We have a few more shows booked for 2013.  It's been a great 2013.  We are about 95% finished with our upcoming release "Turn It Up Louder".  If the stars line up we're hoping for an early 2014 release.  More to come on this.  Speaking of 2014, The Jack Fords are going to be cutting back on the frequency of shows for now.  Don't worry we're still alive and kicking just have a lot of other things going on in our lives...it's all good!  More updates and show dates to come


2/6/13

Winter's back, but don't worry. So are the Jack Fords? They'll melt your snowy blues away this month with two gigs, the first this Friday at the Greenville Inn (this Friday) and on Saturday, February 23rd, at Smedley's Bar and Grill. Think of it this way: the Fords are better on your back than a shovel (unless you've been dancing too much) and a lot easier on your driveway than salt.

In fact, a little rock and roll is what you might need if you're feeling blue these days. A whole lot of rock n' roll is what you can expect from the Fords at the bar and on your stereo. Because in addition to getting ready for these gigs, the Jack Fords have been putting the finishing touches on their next full-length release, recorded at C-Town Recording with engineer Jon Guggenheim. You'll be hearing these new songs -- and many more -- at both the 'Ville and at Smedley's.

If you're not familiar with Chagrin Falls' Greenville Inn, head out to this scenic part of Northeast Ohio and enjoy the Jack Fords sound in cozy cabin-like confines full of good folks, food, and beer. If you haven't witnessed the real-deal Cleveland feel of Smedley's (in the West Park neighborhood), you really missing out on a spot where blue-collar rock n' roll can lives on.

And so do the Jack Fords. See you at the shows!



11/7/12

Despite hurricanes and elections, we should still find time this November to be thankful for the good in our lives. Like music. So don't forget to give thanks for the gift of rock n' roll with The Jack Fords, who'll play their last two gigs of 2012 on November 16th and 17th!

The Jack Fords will share their bounty of rock at Smedley's (17004 Lorain Road, in West Park) on Friday, November 16th; the next night, they'll be in Chagrin Falls at the Greenville Inn (7150 Pine Street). As many of us know, Cleveland is often considered as split between West and East sides. Perhaps on this weekend, the one before Thanksgiving, everyone can put aside their partisan differences, and reach across the aisle...er, river, and make this Jack Fords weekend one for everyone who loves live music. Expect the band to dig deep into its catalog of CDs, such as Bent Outta Shape and The Way Things Should Be. Of course, there'll be no shortage of covers from great artists like Bob Dylan, Bruce Springsteen, Tom Petty, and various others.

The rest of this year will find Brent, Bobby, Jim, and Ed playing with other projects throughout the city. Once 2013 kicks in, the Jack Fords will finish up their next recording and start making the rounds around town, sharing some of the best rock action you'll find in town!


10/1/12

This month, the Jack Fords have only two gigs to tell you about. But they're pretty important ones!

On Wednesday, October 17th, the Jack Fords open for Bobby Keys and The Suffering Bastards at the Beachland Ballroom and Tavern (15711 Waterloo Road). No fan of classic and timeless rock n' roll should miss this show.

Why? Got a few minutes? Here's a brief run-down of Keys' career. At age 15, he toured with Bobby Vee and Buddy Holly. He played on Joe Cocker's Mad Dogs and Englishmen; Dr. John's The Sun, Moon & Herbs; Jim Carroll's Catholic Boy; Harry Nilsson's Nilson Schmilsson; he's played on solo albums released by each Beatle including Harrison's All Things Must Pass and John Lennon's Rock n' Roll; most notably, Bobby Keys has played with the Rolling Stones since the early 70s, on various tours and albums, such as Let It Bleed, Sticky Fingers, Exile on Main Street, Goats Head Soup, and Emotional Rescue. He's also written a book about his rock n' roll adventures, called Every Night's A Saturday Night. The Plain Dealer's Michael Heaton wrote a bit about Keys' book, and it sounds like a great read for rock history buffs (like all of us!)

His backing band is also the stuff of rock n' roll legend. It features Dan Baird of the Georgia Satellites, on vocals and guitar; it features Steve Gorman, sports nut and drummer for The Black Crowes; Robert Kearns, former bassist for the Bottle Rockets and Lynyrd Skynrd; The Suffering Bastards also feature former members of Poco, John Fogerty, and other notable groups.

Tickets to this show are $20 in advance, $25 day of show. Order tickets by calling the Beachland at 216-383-1124 or by going to http://www.beachlandballroom.com. This show starts at 8:30 pm, so be sure to get there in time to check out the Fords get this Rock Hall-worthy show started!

The Jack Fords will also be playing at the Greenville Inn (7150 Pine Street, Chagrin Falls) on Friday, October 19th. Expect hours of high-energy rock action featuring a few covers (especially late, when the booze really starts flowin') and the bands' own originals from their CDs Bent Outta Shape, The Way Things Should Be, as well as tunes from their next upcoming release.

Thanks,

Bobby, Brent, Ed and Jim- The Jack Fords



8/3/12

The days of August are often referred to as the "dog days of summer". But those of you who know and love dogs know they're fond of taking a nap when it's hot. Not so the Jack Fords. Brent, Bobby, Ed and Jim won't be snoozing away this month. In fact, the Fords will be pretty busy.

On Friday, August 10th, the Jack Fords return to the Greenville Inn, located in Chagrin Falls. If you've never been to the Greenville, check it out! It's a cool, rustic cabin full of good beer and friendly folks, right outside of the lovely town of Chagrin Falls. Drive out early, grab a bite to eat at one of Chagrin Falls' various restaurants, and then burn off those calories with some Jack Fords rock n' roll, starting at 10 pm and going 'til about closing time. Read about the Greenville right here:http://www.thegreenvilleinn.com/

The very next day -- in fact, starting on the morning of Saturday, August 11th -- the Jack Fords play at 10 am in the newly-rebuilt Market Square, just across the street from the world-famous West Side Market. Grab some coffee and breakfast grub from the Market or one of the great food vendors on this famed section of West 25th Street. Then wipe the sleep from your eyes and treat yourself to a breakfast of rock! This Open Air At Market Square gig is perfect for rock n' roll parents with families fixin' for something to do on a sunny Saturday morning. Later that day, legendary Cleveland singer-songwriter Bill Fox and former Coffinberry members Little Big Horn (featuring bassist Matthew Charboneau, from Brent Kirby's Lost Fortunes) will perform. Experience the Cleveland summer at its best, with friends, family, live music and food in the Ohio City neighborhood. Learn more about the Open Air at Market Square experience right here: http://bit.ly/N5rMnv

But wait! There's more! That night, the Jack Fords will stay on the West Side and travel to Smedley's, the rootinest, tootinest bar in the Kamms' Corners neighborhood. Starting at 10 pm, the Fords will serve up the riffs and tunes that make this blue-collar biker bar go nuts. Check out this article on a Kamms' crawl, which you could do yourself with a soundtrack from the Jack Fords: http://www.cleveland.com/dining/index.ssf/2012/07/kamms_corners_pub_crawl_will_t.html. Smedley's is located at 17004 Lorain Avenue. Park on the street if you get there early; otherwise, there's a lot behind Smedley's and its adjacent stores.

Two weeks after that, the Jack Fords take part in one of the most fun musical experiences Cleveland has to offer. Only it's not on land -- it's aboard the Goodtime III! On Friday, August 24th, this rock n' roll cruise -- dubbed Roar Along The Shore -- features not only The Jack Fords, but Cobra Verde (also with the Fords' Ed Sotelo on bass), the psychedelic guitar rock of Stereo Workers Union, the indie rock of Glass Cities, and the hard rock of Free Medicine, along with other bands. This event is just too big and too good to miss, so get your tickets NOW from Dredgers Union, the hip clothing store that's bringing fashion to Cleveland and rock upon the waves of the Cuyahoga. Here's the link:http://dredgersunion.wordpress.com/2012/07/13/roar-along-the-shore-band-line-up-announced-tickets-on-sale-today/ . Last year's party was just about sold out, so don't miss your chance to take part in a yearly event that showcases everything good and true about Cleveland and our city's thriving music scene.


6/15/12

At Cleveland's new Horseshoe Casino, you can play slots; with three of a kind, you can hit the jackpot. But we've got a rock n' roll jackpot for you with three-of-a-kind Jack Fords shows this month!

On Friday the 22nd of June, The Jack Fords play the Greenville Inn. If you're an East Sider -- or if you feel like taking a break from your neighborhood -- come to the Greenville in Chagrin Falls.. It's a cool old cabin with a small-town feel that'll be filled with movers, groovers, shakers, dancers, and the big sound of the Jack Fords. Get there around 10 pm for our first set that'll feature prime cuts from Fords albums Bent Outta Shape, The Way Things Should Be, and the band's upcoming release. The 'Ville is located at 7150 Pine Street.

On Saturday, June 23rd, the band returns to Smedley's in West Park. Located at 17004 Lorain Avenue, this joint is truly a blue-collar Cleveland classic. Too bad the Marines recently gathered at Public Square won't still be around, because Smed's loves its leathernecks; motorcycle enthusiasts of all kinds are also encouraged to ride over, too. But don't worry -- Smed's will take you in, especially if you're fond of shot-and-a-beer kinds of fun!

But wait! There's more! On Sunday June 24th, The Jack Fords play a very special show at the Screaming Rooster, at 15527 Madison Avenue in Lakewood. They, along with many other roots rock musicians, will attempt to recreate the feel of one of Cleveland's great music venues, The Town Fryer.

The Fryer was open from 2005 to 2007 at its original location of East 29th and Superior. Owner Susie Porter dished out a personal dose of southern cuisine with such great menu items as red beans and rice, fried oreos and twinkies, shrimp po boy, and fried chicken. Walking into the Town Fryer was like walking into your own living room, where you instantly felt comfortable and at home. In addition to one of the best jukeboxes in the city, Clint Holley's Sunday night music night would transform the Fryer into a must see experience of local Americana, folk, and rock musicians. Musicians met, great music was played, bands were formed, and a strong scene quickly developed. There was something special about the vibe, the sound of the room, the acceptance, that made a night at the Fryer always one to remember. Here's the Facebook invite: http://www.facebook.com/events/429021243799049/. Check in here for updates!

The Jack Fords always have the hot hand, it's true. Rock and roll's a gambler's life, but would you have it any other way? See you at the shows!




5/8/12

Start getting into these spring Cleveland nights with a cold beverage and a little bit (or a lot, if you like) of the Jack Fords. They'll be at Smedley's Bar and Grille ( 17004 Lorain Avenue, Cleveland, OH ) this Saturday, May 12th. If you've never been to this bar, check out this jammin' West Park gem. It's got a blue-collar vibe that's classic Cleveland; yet it's also had a make-over too, with nice big windows and a refurbished dance floor for your shakin' pleasure. Without question, the West Park neighborhood is one of the most hoppin' weekend spots in Cleveland, so if you like to raise a little hell -- even if only once in a while -- we can't think of a better place on the West Side to hear some Jack Fords rock n' roll than Smedley's. You might not remember what happened, but guaranteed you're going to have a real cool time!

Later this month, the band is pleased to announce that once again, it'll be a very special part of Chagrin Falls' 24th Annual Blossom Time celebration! The Fords will close out this three-day festival with two appearances on Sunday, May 27th : underneath the Chagrin Valley Jaycees Big Top tent, from 4 - 6 pm; and later that night at 7 pm, opening for The Dirty Little Rock Stars at the Greenville Inn (Chagrin Falls, Ohio 7150 Pine St), one of the best little log cabins you'll find near Cleveland. Its small-town vibe, however, always brings a lot of big fun out in the woods, so the Fords -- who have played there many a long, crazy night -- are happy to be back and rockin' for their Blossom Time friends. This is always a very memorable Memorial Day for sure! Learn about Blossom Time here: http://www.chagrinballoonfest.com/

Of course, copies of the Jack Fords' CDs, such as Bent Outta Shape and The Way Things Should Be, will be on sale. But if you want to hear what the band's been up to lately, come early in the night. That's when tunes off the unfinished new album will be played. They're so good, you'll probably ending up staying 'til 2 am or so. That's the power of Jack Fords rock n' roll!


3/7/12

You think this weather's nice? It's going to be even better once the sound of the Jack Fords come sailing through the springtime air. Come out of your cupboards, you boys and girls (as once sang Joe Strummer), and enjoy two March shows with the band. This Friday, March 9th, the band returns to one of Chagrin Falls' premier drinkin' and dancin' destinations, The Greenville Inn. Drive down to 7150 Pine Street 'round 10 pm, and 'round that time, the band will kick into tunes found on Bent Outta Shape, Way Things Should Be, and the soon-to-be-released Turn It Up Louder. If you stick around, the Jack Fords will surely throw in covers from the Dylan, Springsteen, and (their fave) the Tom Petty repertoire, among others. It's gonna be a long, loud, and righteous time. If you can't make it out this Friday, the Jack Fords will also be playing Smedley's Bar and Grille (17004 Lorain Road, in the beautiful West Park neighborhood of Cleveland) on Friday, March 30th. If you haven't been to Smed's in a while, check it out. Though that blue-collar vibe still permeates every nook and cranny of the place, the bar's gotten a slick new facelift. The front of Smedley's boasts a new floor, and new windows, too!

And, if you haven't been following the miracle that is Modern Social Media, you'll learn that the Fords' Bobby Latina -- who got his guitars pilfered after from the band's recent Beachland gig -- got the goods back. As far as the details go, you'll have to visit the band and ask Bobby; but the recovery of his Les Paul and beloved Telecaster wouldn't have been possible if not for the hundreds, if not thousands, of concerned folks who reposted the info on Facebook, and who distributed handbills detailing the lost goods. It could be said that finding the guitars at a West Side pawn shop was a miracle. It should be said that it was through the efforts of Jack Fords fans, friends, family, and some total strangers, too. It's nice to know that social media can be used for something besides stupid updates ("Does this Facebook layout make me look fat?") and goofy cat pictures.

Bobby tells Songbird the story here: http://www.examiner.com/nightlife-in-cleveland/facebook-to-the-rescue-how-social-media-saved-bobby-latina-s-axe

If you need to convince someone to come out this weekend or on the 30th, here's a link to the Jack Fords' recent visit to the Kent Stage, opening for the fine fellows known as the Del Fuegos. A kind fan (you know who you are) was nice enough to run tape during the band's set. Here are the results! http://www.youtube.com/watch?v=7wsnQfwx-OU Take the time to pass this link along to any and all of your rock and roll friends!


2/7/12

THE JACK FORDS PLAY SMEDLEY'S SATURDAY FEBRUARY 18TH

The Jack Fords are no classic rock rehash. Sure, the band loves the sounds of Bob Dylan, Bruce Springsteen, Tom Petty, Neil Young, and The Band, but over the last several years have put their own spin on a tried-and-true sound. That is to say, this ain't no mere 'cover band'; each and every show the Fords play is a complete and thorough tour-de-force. This isn't just a cover band rehashing the same tired tunes on oldies radio; this is a band with a catalog chock full of excellent originals, as showcased on Bent Outta Shape, Way Things Should Be, and the upcoming Turn It Up Louder. The Jack Fords demand to be heard, and if the rough mixes from Turn It Up Louder are any indication, the band's fanbase is going to be growing quite a bit more.

And why? It's simple. The Jack Fords not only rock, but it's good, hard-drinking barroom fun. On Saturday, February 18th, as the Jack Fords take over Smedley's Bar and Grill for one night. Smed's has had a recent make-over; big windows and a cool awning have classed up the joint. But make no mistake. Smed's might look nicer, but the folks there like to roll up their sleeves and seriously get down. If you're looking for a particular style of Saturday night action -- the kind that needs Advil, Tums, and some good excuses the next day -- do yourself a favor. See and hear the Jack Fords this Saturday. Besides, you'll be present for the return of Greg Campolieti -- the Fords' former drummer who played on the Way Things Should Be album -- who will be filling in for regular Jack Fords drummer Jim Wall.

For those east side Jack Fords fans, and Beachland Ballroom fans, the Jack Fords will be opening for an old friend, Stacie Collins, as she makes her way back to her former home of Ohio on a short, two-day tour. Stacie's latest country-rock record, Sometimes Ya Gotta, was produced by the Georgia Satellites' Dan Baird, and features the work of Jason and the Scorchers bassist Al Collins (who also happens to be Stacie's husband!). If you haven't heard, the Beachland has been one of the Midwest's premier small concert venues; if you haven't been here before, put this down on your calendar NOW! The Beachland is truly a rock n' roll treasure to be experienced, featuring great bar food; a hip vintage clothing and merchandise store in the basement called This Way Out; and other cool shops on the street, such as Star Pop Vintage & Modern (a toy store), and music stores Blue Arrow and Music Saves.

Finally, the Jack Fords play the Kent Stage on March 2nd, opening for reunited 80s roots rock band The Del Fuegos, which features brothers Dan and Warren Zanes, both great singer-songwriters in their own right. To learn more about the Del Fuegos, read SPIN Magazine's article on their upcoming tour:  http://www.spin.com/articles/del-fuegos-rekindle-flame-reunion-tour. Can the Kent Stage handle this much rock and roll? Come down with the Jack Fords and find out!



1/2/12

You knew it wouldn't be long. You know that eventually the roar of the Jack Fords would be back. At this point, the band's turning into a hallowed Cleveland institution. Sure, there are plenty of great bands in Cleveland (some of them our very good friends!) but who exactly rocks like the Jack Fords? Someone once said the band sounded like "Tom Petty backed by the Allman Brothers"; and certainly, the band's got that lean Petty touch with songwriting backed by the fierce Allman-style energy of Jack Fords members Bobby Latina and Jim Wall.

The end result, however, is pure Cleveland. And it wouldn't be Cleveland 2012 without a Jack Fords gig. So on Saturday, January 14th, bring you and yours down to Smedley's Bar and Grille for an entire night of loud n' rowdy rock n' roll. Make sure you tell your friends, too. The band appreciates all the love and friendship we experienced last year, but would also like to see some new faces as well. Makes for a better party, doesn't it?

The Jack Fords will be playing tunes from their CDs, Bent Outta Shape and The Way Things Should Be; they'll also be playing tunes from their new album, which they'll be recording in a few weeks. They'll also be playing covers by The Byrds, Gram Parsons, Bruce Springsteen, Elvis, Bob Dylan, and many more classic rock all-stars. Forget winter warnings - it's gonna be a hot one at this one-of-a-kind blue-collar West Side biker bar.

Smedley's is at 17004 Lorain Avenue, Cleveland, OH 44111). Music starts at 10 pm, and there's no cover.


11/7/11

Given the holiday sales blitz you'll witness in the next few months, we're not gonna hit you with the hard sell. But let's face facts, folks: you're looking at the last three Jack Fords shows of 2011. No joke. So before you embark on the gluttony, merriment, and hubbub of the Thanksgiving holiday, don't forget to stoke your appetite on not one, two, but three courses of Jack Fords rock n' roll. Pack some Pepto; but from what we've heard, a shot of good whiskey helps the Fords go down smoother, and keeps your feet a-movin'!

These feasts of fun start on Saturday, November 12th, when the Jack Fords perform at the Happy Dog (5801 Detroit Avenue) with roots trio oldboy. After that, look to Friday, November 18th at Smedley's (17004 Lorain Road) or Saturday, November 19th at the Greenville Inn (7150 Pine Street, Chagrin Falls).

Come on out and give praise to whatever forces of great music and good-natured debauchery you choose to follow! The Jack Fords have plenty of thanks to give, too. Despite a variety of health woes, the Fords boys are stronger than ever: their spectacular drummer Jim Wall had a bit of foot surgery, but that hasn't slowed down his ass-kicking ways; guitarist Bobby Latina wore out his back from lifting some of the heaviest riffs in Cleveland; singer Brent Kirby bounced back from a hand injury to release a solo album (Coming Back To Life), and to lead another one of Cleveland's hottest bands, the Gram Parsons tribute known as the New Soft Shoe. Bassist Ed Sotelo keeps losing more hair and more of his hearing -- can't do much about that, though!

But the Jack Fords are mostly thankful for all the love, support, and energy that you, proud members of Northeast Ohio's music-loving community, have shown. Every night the Jack Fords play requires loads of energy that doesn't just come from sheer willpower and beer carbs (thought that helps); it comes from the dancers, the drinkers, and everyone in between who come out to see them play. Without YOU, those wild and unforgettable nights of loud joy could never happen. And for that, the Jack Fords are very, very thankful!

January will see more shows and -- keep your fingers crossed -- some studio sessions that'll become the next Jack Fords full-length release. But for now, please remember these Novembershows. Share this email and the band's Facebook page to everyone you know, and let's make this a November to remember.

Have a happy and healthy 2012!

The Jack Fords




10/3/11

The Jack Fords like to play a swingin', jumpin' version of a song by a little band called "Led Zeppelin". You might have heard of them. Part of the lyrics run, "been a long time since I rock and rolled" (the rest of it's a bunch of glorious gibberish). In the case of the Jack Fords, it does seems like a long time since these guys have rocked and/or rolled as a unit; not just any unit, mind you, but one of CLE's premier ensembles for drinking, dancing, and debauchery.

It's not like the individual members haven't been sitting idle: frontman Brent Kirby has been gigging thoroughly around town, either as a solo artist; as curator of various open mic nights (like his 10 X 3 at Brothers' Lounge); or as the head man behind his "New Soft Shoe" Gram Parsons tribute night at the Happy Dog. Brent and New Soft Shoe collaborator Al Moss recently took their take on this roots rock innovator out on the road; they participated in the annual Gram Parsons Guitar Pull and Tribute Festival located in Parsons' hometown of Waycross, Georgia.

Drummer Jim Wall has been gigging with the Bad Boys of Blues and G.S. Harper and getting foot operations; bassist Edward A. Sotelo has been performing with Cobra Verde, Doug Gillard (ex-Guided By Voices lead guitarist), and his new group, We The People; rumor has it that guitarist Bobby Latina is adding more fuzz pedals to his pedalboard.

This coming Friday, these fantastic four will be coming together at The Greenville Inn (7150 Pine Street, Chagrin Falls. 440-247-8068.). They'll return to Smedley's Bar and Grill (17004 Lorain Road, Cleveland. 216-941-0124). If you've never been to either one, the 'Ville in Chagrin has a great college town feel; Smedley's is a warm-hearted, BS-free biker bar located in the thriving West Park area. The vibe at both places is truly something to behold, as they're both variations on the good-natured rowdy fun that always follows in the wake of the powerhouse Jack Fords. In other words, don't bring your mama -- unless your mama likes to get down!


8/9/11

Nothing goes better with the Cleveland heat than Jack Fords-brand rock n' roll, and a cold beverage of your choice. But you'd better act fast this time, because the band's got only two dates this August. Experience your last chance to dig this powerhouse sound in the summer swelter, before Fall arrives!

This Friday, August 12th, sweat yourself silly, with the Jack Fords at Smedley's in West Park (17004 Lorain Avenue, Cleveland, OH 44111). Prepare yourself for some good-natured rowdiness, or as the old country tune says, "dim lights, thick smoke, and loud, loud music". The Fords go on 'round 10 pm, and the cover is free. Just make you sure you get to tippin', or Smedley's bossman Stibbs might go a-tossin' (you out the door, that is).

On Friday, August 19th, the Jack Fords get their back-to-school outfits on; this time, Jim won't cut class and Bobby won't be hanging out in the parking lot in his rockabilly hot-rod. The Jack Fords will be rollin' down to Kent, Ohio, to play at the Water Street Tavern, a big ol' bar full of great food and a fine beer selection. And if the weather's fine, check out the rooftop patio. Make a day of it, sightseeing the lovely Kent area, and then end up at the Water Street Tavern. See a menu and more at http://www.waterstreettavern.com/

For more information on upcoming gigs, merch, and to learn more about the band, go to www.jackfords.com. Find us at http://www.facebook.com/jackfords, too!


7/7/11

It's been a month since you've seen, heard, and felt the Jack Fords, but this July, you'll get plenty of chances on both sides of the Cuyahoga, and even in the legendary suburban hamlet of Parma, Ohio.

While the band hasn't been out in the bars and clubs for several weeks, all has been quite busy in Fordlandia. Brent Kirby (www.brentkirby.comwww.brentkirby.com) has been charming and crooning his way all around town, whether with his Gram Parsons tribute, The New Soft Shoe, or with his own solo backing band, The Lost Fortunes. He's even been in movies recently--you'll just have to ask him. Jack Fords guitar-slinger Bobby Latina was, not unlike AC/DC, shot down in flames by an unfortunate back ailment. What happened to him specifically is between him, the Cleveland Clinic, and some daring NASA engineers who hooked up his spinal cord to his pedalboard. Just wait 'til you see this futuristic doohickey in action! Meanwhile, drummer Jim Wall has been twirling his sticks with a variety of working bands in the Northeast Ohio area, while bassist Edward Ángel Sotelo is out and about performing with his bands The New Lou Reeds and We The People.

This Saturday, The Jack Fords hold it down and tear it up at Smedley's Bar and Grille in West Park. On Friday, July 22nd, the Jack Fords return to lovely Chagrin Falls to perform at the Greenville Inn. And on Saturday, July 23rd, the Jack Fords will play the Hot Rod Rock N' Bowl III at Yorktown Lanes, in Parma, Ohio. Starting at noon, Yorktown Lanes will have cars, bikes, scooters, bands, and of course, bowling. Here's a link to the event: http://www.yorktownlanes.com/events.shtml#hotrod. And if you're on Facebook, here's the link to the event: http://on.fb.me/qpUz8M.


5/9/10

Are we finally allowed to say, "It's springtime!" It's been drippy and dismal for the last several weeks, as many of you know. Yet, regardless of the weather, the Chagrin Falls Jaycees-- organizers of that town's annual Blossom Time festival - can't be stopped. Kinda just like the Jack Fords!

For decades, the charming town of Chagrin Falls has labored to bring one of the area's best summer fests to Ohio. From May 26th to May 29th, there'll be street vendors, carnival rides, food, drink, a hot air balloon flight, and live music with bands like The Jack Fords.

On Sunday, May 29th, we'll play twice - once under the big tent (we forgot what it's called, but you can't miss it!) around 3 pm, and then later 'round 10 pm at theGreenville Inn. The afternoon set is usually pretty family-friendly, but that night, the kid gloves come off, and the shots go down. Expect nothing but raucous drinkin', dancin', and god-knows-what-else as the Fords get down to business with tunes from their CDs Way Things Should Be and Bent Outta Shape, plus a selection of the great rock tunes ever recorded!

No rock n' roll stone is ever left unturned with the Jack Fords. And no stoner is ever left unturned-on, especially at Smedley's in West Park. It was Joe Walsh who once said, "the smoker you are, the drinker you get"; frankly, we can think of no better place this phrase applies to than Smedley's Bar & Grille, at 7004 Lorain Avenue.

If you can't make it to Blossom Time, don't miss us on Saturday, June 4th. Park behind the bar or across the street. If it's a nice night, dust off yourmotorcycle - you'll find plenty of friends here. If you like rock n' roll, you'll find even more friends - and the Jack Fords!



4/5/11

Ah, the crack of a baseball bat, the whiff of warmth in the air...all these are immemorial signs of spring. We've got another one for you: the roar of electric guitars. The Jack Fords will shake, rattle and roll that grimy Cleveland cold right out of your soul with two shows: The Greenville Inn (Friday, April 8th) and at Smedley's (Saturday, April 9th).

Those of you who haven't experienced the Jack Fords at either of these fine drinkeries are in for a real treat. There's something about a band that's just a little bit too loud mixed up with a crowd who's a little bit too, er, lubricated, in a very small room that always inspires a party that's just a little bit out of control. Ask anyone who's seen the Fords tear it up for 3 - 4 hours at a pop. It's like being at the center of a rock n' roll tornado, no matter where you go.

The Fords fellas - Brent, Bobby, Ed and Jim - will be playing original tunes from their CDs Bent Outta Shape, Way Things Should Be, along with the new tunes set for a future release. In addition, there'll be loads of cool covers: Dylan, the Boss, Tom Petty, and many other gems.

These are the only April gigs for the Jack Fords. The individual band members gig around quite a bit - Jim holds it down with the Bad Boys of the Blues and Kristine Jackson; Ed's got groups like The New Lou Reeds; and Brent's just released a new solo album, Coming Back To Life, which he's supporting with a Kickstarter.com page. Read about it at http://www.kickstarter.com/profile/brentkirby.

But if you want that real genuine rock n' roll article that is the Jack Fords, see them this Friday at the Greenville Inn (7150 Pine Street in Chagrin Falls) or Saturday at Smedley's Bar and Grille (17004 Lorain Avenue, in Cleveland).



3/1/11

To paraphrase Charlie Sheen, The Jack Fords - who are playing two times this weekend - are winning here, and winning there. This Friday, The Jack Fords set the rafters of The Greenville Tavern afire; on Saturday, The Jack Fords roll out to one of Cleveland's hardest-partying bars, Smedley's, located in West Park.

If you're on the East Side, or on the West Side looking for a scenic jaunt, check out the Jack Fords in Chagrin Falls' beloved Greenville Inn, located on 7150 Pine Street. Call (440) 247-8068 for directions if you haven't been there before. The trip can be a real doozy. Speaking of doozies, Smedley's Bar and Grill (17004 Lorain Ave) is always a good time on the weekends. Here, a mixture of bikers, rock n' rollers, and folks from the West Park neighborhood get down to the nitty-gritty and 'til the wee hours.

Both of these joints bring out a brunch of Jack Fords regulars who are not only well-versed in the band's seemingly infinite playlist of kick-ass covers (No "Brown Eyed Girl", though the Fords love them some Van Morrison), but originals from their Bent Outta Shape and Way Things Should Be CDs, both of which will be on sale at these gigs. This time around, the band hopes to throw in a few new numbers to keep the drinkers and the dancers guessing.

Looking for some rockin' rowdiness? Come see the Jack Fords this weekend. And if you look closely, maybe even Mr. Goodtime Charlie Sheen will be there, too!


2/8/11
So it's February, and you're wondering, 'Just where the hell are The Jack Fords?" Like any good runaway rock n' roll vehicle, you might have just missed them. Brent, Bobby, Jim and Ed recently tore through beloved West Side hotspot The Happy Dog this past January 28th. It was a dancin' and drinkin' demolition derby that kicked off with very special Pittsburgh guests The Wheels in the opening slot. The Fords followed up with a truckload of originals from their two CDs - Way Things Should Be and Bent Outta Shape - plus a slew of tunes slated for an upcoming, yet unnamed release. If you made it to this Happy Dog show, you surely dug these numbers; if not, check out some footage from the gig at http://www.youtube.com/user/kingofthecastle7#p/u/38/wYsT7fQf88E.

This writing of this highly-anticipated upcoming release is how Brent and Bobby from The Jack Fords will be spending their February. March and April, however, feature the band returning to the bandstand. They'll be at the Greenville Inn in Chagrin Falls on Friday, March 4th; the next night, The Jack Fords return to one of Cleveland's great blue-collar watering holes, Smedley's Bar and Grille, in West Park.

In early April, the band will also be taking part in the annual LoveMuffinPalooza music festival. From March 31st to April 2nd, The Barking Spider (University Circle), The Symposium (Lakewood), and Wilbert's (Downtown Cleveland) will host over a dozen bands while donating a portion of the proceeds to the Animal Protective League of Cleveland. The Jack Fords will be sharing a bill with Jane Dough and The Flavor at Wilbert's on Saturday, April 2nd. Read about the lineup and the benefit at http://www.clevelandapl.org/Fun-things-benefit-APL.html.

For more information on these gigs, to purchase music, or to just be part of The Jack Fords' community (and get a FREE song in the process!), head to http://www.jackfords.com.


1/3/11
Happy New Year Fords Fans!  We must say that 2010 was probably the best year for the band ever since we started in 2005.  We released our long awaited Eric "Roscoe" Ambel produced CD, "The Way Things Should Be" in May.  We have had some amazing shows thoughout the year and we cannot thank you all enough for the love and support.  Our plan is to record another record this spring with a late 2011 release.  Our show schedule with be a little light the first part of the year while we spend time to write for the new record.  The band is excited to add new songs both originals and covers to the live show.  We will keep you all posted as things progress.  Until then stay warm and keep rockin'!

12/1/10

Last time we checked in with the Jack Fords boys, singer Brent Kirby had grown a cybernetic finger to replace one he'd lost in a fight with an avocado; Jim Wall toured the Europe and caught an unshakeable cold somewhere between Luxembourg and Lyon; Fords lead guitarist Bobby Latina was trying gigging with his old band the Cowslingers and growing a beard; bassist Edward Sotelo had disappeared somewhere in the wilds of Tremont. This fierce foursome, however, regrouped to play a few numbers at Harley dealership for WNCX's annual "Feed A Family" food drive, while Brent and Bobby began gigging with Cleveland's bards of holiday cheer, the Ohio City Singers. Check out the YouTube videos by our pal Ken Dixon:
http://www.youtube.com/user/clevelandlivemusic#p/u/6/Qvrc0mXrHkA

Despite all this hubbub, The Jack Fords are getting it together for a Smedley's gig this Saturday, December 4th. The idea, of course, is to once again bring down the roof with blazin' hot renditions of tunes by Springsteen, Dylan, Parsons, the Byrds, in addition to the Fords' extensive repertoire, i.e. The Way Things Should Be and Bent Outta Shape. If you're an East Sider, and daunted by thoughts of long sleigh rides across the Cuyahoga, fear not: The Jack Fords will be throwing down at their East Side home, The Greenville Inn, on Friday, December 17th. On the other hand, Smedley's is a premier working-class institution, and nothing goes down better at this bar than The Jack Fords (well, a cold one, a shot of Jack, and some dancing ladies never hurt, either). It's a sight to behold, and a rock n' roll sound to ring Christmas bells near and far, as only The Jack Fords can do!


Smedley's Bar and Grill
17004 Lorain Avenue
Cleveland, OH 44111-5513
(216) 941-0124


The Greenville Inn
7150 Pine Street
Chagrin Falls, OH 44022
(440) 247-8068


10/28/10

Witness the sounds and sights of the Fall season: the crunching of leaves underfoot; the smell of good, home-cooked food; the sight of footballs being thrown, and the return of the Jack Fords to Mojo's on November 20th.

Since the boys last made the trip to Jamestown NY from Cleveland, quite a bit has happened. Singer Brent Kirby damaged one of his left fingers in a cooking accident, but is happily on his way to making a full recovery. Drummer Jim Wall toured the roads of Europe playing drums for the legendary Big Brother and the Holding Company, while bassist Ed Sotelo released a vinyl album with one of his other bands, The New Lou Reeds. Bobby Latina and Brent also found time to do some East Coast touring with their friend Chris Allen and the Guilty Hearts. 

In spite of all their different adventures, the boys still haven't forgotten how to rock in a Jack Fords style, a tough but tender mixture of The Band's funk, Springsteen's epic storytelling, and Allman Brothers-seque guitar workouts. The Fords will performing tunes from their latest CD, The Way Things Should Be, but this Mojo's appearance will feature a batch of new tunes slated for a future Jack Fords album, yet to be unnamed.

This is going to be the last Jack Fords gig at Mojo's for the year, so if you need classic rock n' roll with only the highest standards, quench your thirst on November 20th!

9/28/10

While the summer of 2010 was a scorcher, this early October seems to tilt on the chilly side. That's why The Jack Fords are bringing some of their hot-rod heat and fat backbeats to the Greenville Inn and Smedley's on Friday and Saturday!

It was a slow September, the Fords' only gig a Brother's Lounge set with the Steepwater Band, from Chicago. Gigs, kids, jobs, and the like can cut into rock n' roll fun. That's exactly what happened to Fords' frontman Brent Kirby. A tussle with some avocados left one of Kirby's fingers in stitches. You can imagine the rest. Fortunately, Brent's healing up quite nicely. The avocado...well, not so good.

So, the temporarily nine-fingered Brent Kirby and the Jack Fords will be playing Friday at the gregarious Greenville Inn (Chagrin Falls) and free-ridin' Smedley's (West Park) on Saturday night. While Brent's hand heals, the band will lean on the powerhouse solo guitar of Bobby Latina; but we're sure Brent will work on his new stage persona, one that's a little bit David Lee Roth, a little bit Dean Martin.

The Jack Fords will play tunes off their latest CD, Way Things Should Be (which you can buy here), and plow through a slew of classic tunes by artists like The Flying Burrito Brothers, The Band, Bob Dylan, Bruce Springsteen, and of course, Tom Petty. But don't expect bar-band boredom and reverence. With the help of world-class session drummer Jim Wall, these tunes will burn brightly into the cold Cleveland night. Don't miss out!


The Greenville Inn
7150 Pine St, Chagrin Falls, OH‎


Smedley's Bar and Grill
17004 Lorain Ave, Cleveland, OH 44111-551


9/1/10

As uttered frequenly in hit sci-fi flick, The Highlander, "there can only be one." There can only be one Jack Fords, and this month, the band has only ONE gig. It's at Brothers Lounge, on Saturday, September 11th at 9:30 pm.

The Jack Fords have been quite busy since their new CD, Way Things Should Be, has fallen into the laps and loving ears of Northeast Ohioans thirsty to hear gutsy roots rock delivered sometimes full-throttle, and at other times, with a gentle, soulful touch. The band's been rocking crosstown, from the smoky confines of Smedley's in West Park to the good-natured Greenville Inn, in Chagrin Falls. They've played downtown, 'neath the shadow of the WCPN / Ideastream building in Cleveland's Playhouse Square District; they've even gone beyond their hometown to towns such as Jamestown, New York, and Erie, PA.

Chicago's Steepwater Band, a power trio who does Southern rock, Midwestern-style, should fit the bill perfectly with the Fords' big sound. The Steepwater Band has released four full-length records, and received radio airplay across the Midwest; meanwhile, their songs have been placed in network television shows, a major motion picture, and a 3 year national ad campaign that debuted during the World Series. They have shared the stage with acts as diverse as Buddy Guy, Wilco, Gov't Mule, ZZ Top, and Cheap Trick. Their 2008 album, Grace and Melody, was produced by former Black Crowes guitarist Marc Ford; their latest is The Stars Look Good Tonight.

If you haven't gotten hip to the Jack Fords yet, get over to www.jackfords.com. Better yet, befriend them on their Facebook page. If you're already a fan, feel free to post video and audio from the Fords' shows. Share the love, and share the rock and roll you'll be hearing Saturday, September 11th at Brothers' Lounge.


8/2/10

JACK FORDS IN AUGUST

Let's play a little word-association game here: Cleveland. Downtown. Summer. Food. Beer. Jack Fords. FREE. All of these fine concepts converge this THURSDAY as The Jack Fords play the DUNDEE CONCERT SERIES from 5 - 8 pm at Star Plaza, on Euclid Avenue right across from famed Playhouse Square. Need a map? Not a problem. You'll have to look around a bit for parking, so we suggest getting there early and keeping your options open. Or, you could park at certain Red Line stops throughout Cleveland, and for a total of five bucks, take the RTA to and from this show. That way, you can drink and eat in relative safety!

Now, we've covered Playhouse Square, Star Plaza, and the Jack Fords (who'll have copies of their latest CD, The Way Things Should Be, for sale). Let's talk about who the hell Dundee is--and we're not talking Crocodile, either! Dundee Beer is a NY-based brewery known for their delicious Summer Wheat Beer, and a Kolsch-Style Ale, among others. Summer Wheat Beers will be on sale for this special gig, along with Labatt, Seagram Wine Coolers, and various non-alcoholic beverages. In addition, there'll be food carts, such as (perhaps) the delicious Dim and Den Sum; furthermore, another notable sponsor, great rock n' roll radio station 107.3 The Boom will also be in attendance (maybe they'll play some Jack Fords tunes on the air!)

The best part of this all? It's FREE. Get there early, check out our city's Downtown, get some Jack Fords in your system, and then explore the rest of your city, with feasting, fun, and good friends.

On the 13th of August, The Jack Fords pack up their conestoga wagons of rock and head out to the fine town of Erie, Pennsylvania, to perform at a quality little joint called The Docksider. Anyone say road trip? And hey, if the money from the gig is good enough, look for the boys to be gambling away their kids' college savings at Presque Isle Casino...well, we're kidding, but we hear that tourist hotspot's got a great budget buffet ideal for hungry musicians.

Finally, the Fords wrap up their August with a double-shot weekend of August 20 - 21, beginning with the Greenville Inn in lovely Chagrin Falls, and end at the notorious but loveable Smedley's Bar and Grille. See you there!

8/5/2010- Dundee Outdoor Summer Concert Series -Star Plaza at Playhouse Square- 5pm till 8pm FREE!

8/13/2010 -The Docksider, Erie, PA

8/20/2010- The Greenville- Chagrin Falls OH

8/21/2010- Smedleys Bar- Cleveland OH

7/12/10
Damn that was a kick ass time this weekend. We successfully pulled off three full shows within a 48 hours period. Nothing like rocking out on three hours sleep, but hey it's only rock and roll. There are a lot of great pictures and videos from the shows this weekend on our Facebook page. Thanks to all who came out!

In other news, the Jack Fords were chosen to be a part of LimeWire Store's: Ear to the Ground compellation series Cleveland edition. LimeWire puts these comps out in every major US city featuring local acts of that respective city. Check it out right here .  The downloads are FREE!

7/2/10
Louder than a World Cup vuvuzela come the Jack Fords, Cleveland's champion heroes of rock and roll, American style. That means big guitar stompers, heartrending ballads, and a variety of songs by the Grateful Dead, Bruce Springsteen, Flying Burrito Brothers, the Band, Dylan, and various others. But make no mistake--the Fords are no mere cover band. The tunes off their newest CD, The Way Things Should Be, hold their own in the category of "songs that should be on radio in a better world". From the full-on boozy flirtations of "Done You Right" to bar fave "Last Call Whistle", to the soaring love testimonial, "Together We Rise", the Fords please the ear of any classic rock lover around.

This weekend, the Fords take on THREE gigs, starting with a night at incomparable East Side watering den The Greenville Inn (Friday, June 9th), then back to the West Side (Saturday, June 10) for some lunchtime rock at Ohio City's annual summer Saturday festival, Open Air At Market Square (11am to 2pm). Grab a bite from the West Side Market or one of the neighborhood's fine restaurants while you're at it, too. Later that Saturday night, the Fords take it back to Smedley's Bar and Grille for the kind of geniune hell-raising you just don't see anymore, even in grimy ol' Cleveland. By this time, the band will be warm and the crowd will be wild.

So don't let yourself get yellowcarded for a sloppy play, folks. Fun will be your goooooooooal...!

6/14/10
This just in....Jack Fords digital downloads are NOW available!!  Go here to purchase our music. 

Also thanks to Mojo's Bar, King Rail and the city of Jamestown NY for showing us the love last Friday night.  We'll be back this fall for sure!


6/7/10
-This Friday, June 11th, the Jack Fords return to one of their favorite stomping grounds, the fair town of Jamestown NY and the swingin' little club called Mojo's. Small but mighty, shows at Mojo's are always packed with area listeners thirsty for original live music and whatever the bartenders throw at them. This time they'll be drinking deep from the Jack Fords' musical well. The band's latest CD, The Way Things Should Be, packs a high rock n' roll percentage with flavors that run from roots to garage. And in a live setting, these tunes explode with the help of new Fords drummer, Jim Wall, known in Cleveland for his rocksteady backbeat and fiery improvisations. Opening are the J-Fords' pals, King Rail.

On Wednesday, June 23rd, the Fords reacquaint themselves with the Beachland Ballroom and Tavern, in Cleveland's North Collinwood neighborhood. They'll be opening for country-rockers Truth and Salvage Company. Truth & Salvage Company were signed to Silver Arrow Records (The Black Crowes Indie label) and Megaforce Records and have recorded their debut record with Chris Robinson of The Black Crowes. These boys have knocked 'em dead in their adopted city of Los Angeles (they're from North Carolina originally), and the Fords have blown the doors off many a Cleveland joint, so suffice it to say that this meeting of Midwest muscle and Southern soul will be a can't-miss affair!


5/27/10
-This weekend the Jack Fords will be able to enjoy the festivities at the famous Blossom Time Festival in Chagrin Falls OH. This Sunday night (5/30) we will be playing under the Chagrin Valley Jaycees tent located right by the falls from 6pm till 8pm. Then we'll hop in our cars and rock out yet again at the Greenville from 9:30p to 1:30a. We've been playing the Blossom Time Fest for the past 4 years at the Ville and it is always a kick ass time. We will have T-Shirts and CD's available for sale at the shows or you can buy one here